Reflections on a Broken Phone
Published: 10 March 2019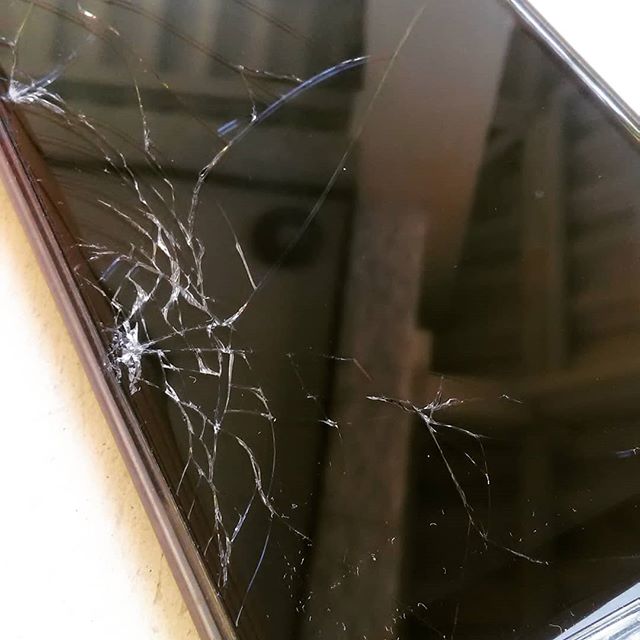 When I see you smile,
I can face the world.
You know, I can do anything.
When I see you smile,
I see a ray of light.
I see it shining right through the rain.
— Bad English
Beauty is an old, black dog that our neighbour left when he moved house some months back. All her life, she's lived in a cage by the street and while she has been alive for a long time, she has not been well taken care of. We and the other neighbours help her out when we can: feed her some, play with her some, cover her cage when it rains hard. It's a good thing, too, that the people who moved in to Beauty's former human's house are taking care of her as well.
Some times, while I'm waiting for my ride to the office to arrive, I go to Beauty to entertain her a bit. I just call out her name— repeatedly, which she seems to like— and pat her on the nose. I'd also try to pat her on the head but every time I reach into her cage, she turns around as if to get me to scratch her behind. And I don't want to do that.
I went to see Beauty last Friday, had a bit of fun until I noticed a thread hanging from my sleeve. I tried pulling it out and accidentally dropped my phone and smashed its screen into cobwebs. It started to feel that the day wasn't going to go well. And that was sort of confirmed when I got picked up by the wrong Grab car because the driver didn't know his own friggin' name! See, when I board, I always say, "Boss, <driver's name>. Good afternoon."; because it just seems the right thing to do. So, when the driver acknowledged me, I didn't think twice about getting on.
But I have a talent for seeing details. So when, after a couple of minutes in transit, I saw on the driver's phone that the booking was for "Chua", I realised that there had been a mistake. Long story short: it was a hassle getting off and on another ride, booking while having to look at and to use my cobwebbed phone.
Like everyone else, I have always looked forward to Fridays. And last Friday seemed it was going to go especially bad— and I wasn't even one kilometre away from the house, haven't been awake for more than an hour. At that time, the Law of Conservation of Energy sounded more like a simple adage compared to Murphy's Law. In heavy traffic, all I could think about was: what else can go wrong?
At work, I'm used to dealing with technical problems. Heck, if there weren't any, I'd be out of a job. But I was more wary of those little things that can't be fixed through programming. The little things that happen in stages that once they've passed, there is no way you can revert to an earlier stage— no undos. And I have been doing a lot of things lately. Doing them in the dark. Doing them without knowing what can and can't be undone.
Of course, it didn't help when I told the story to a friend who has friends who don't like me a lot at the moment. And it doesn't help that I have no one else to talk to about things like this; because birds of the same feather flock together. When things of this nature need to be spoken about, my own friends and I don't speak but make music and write songs. But songs already play a big part in all of this.
However, Fridays wouldn't be so special to me if good things don't really happen on Friday nights. I suppose, it's like being Beauty. You live in a cage. You see things as they happen. Some times, you are nourished. Some times, you are sheltered from the rain. And on special occasions, somebody calls out your name, reaches out to you, leaves you with memories that make living in a cage somehow comfortable.
I exaggerate, of course. But not too much.