My Friends: The Super Heathens
Published: 14 May 2019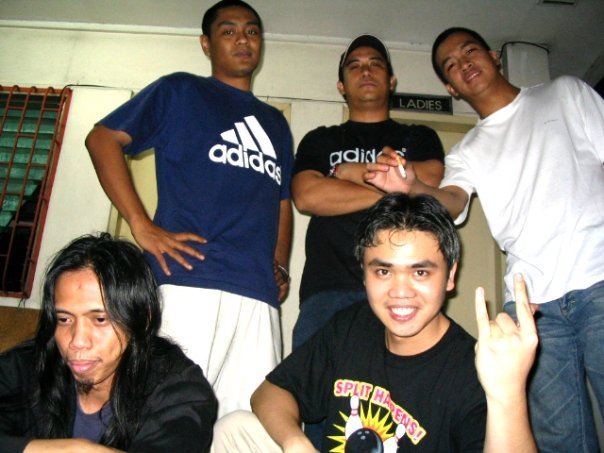 "Show me who your friends are, and I will tell you who you are." — Vladimir Lenin
I know it will look unfair that I have written one post per friend so far then suddenly write about four guys in one go. But this bunch is special not only because I have known each of them for years— as with the others— but we were together as a band in a time when I really had so much to say and, in their own special way, made this part of the world listen.
Pagan Smoke.
Paul
Paul, drummer extraordinaire, genius with the sticks, menacing with the cymbals, unfaltering with the double bass. He came very late into this party. We met Paul when we joined a band competition some time in 2001, I think. Pau, played for us then and Paul was a technician who we just happened to see play the drums so well. Pau was on his way out of the band because he was on his way to med school. We desperately needed a new drummer. And not just another drummer but somebody that could fill Pau's shoes. Paul did an awesome job of that— after some negotiation.
Paul comes from a local death metal super band that had been popular even when the rest of us were in high school. He still plays with Kabaong Ni Kamatayan even today, whenever they get an opportunity to re-form. People who are familiar with Manila's 90s underground would know who the great Paul Magat is. And to be able to write songs and play them with him is just an awesome experience. Every time.
But one thing we are proud of when it comes to Paul is that he never had it easy. He didn't walk into Pagan Smoke and just bossed the music. He learned a lot from us, particularly the controlled blasts that was required of a funk/heavy metal hybrid whose songs needed to be sung more than screamed or growled.
These days, Paul works as a sound and live mix engineer. He has had stints mixing live performances on TV and is producing the material of the current generation of head bangers. He's also started endorsing some sound mixing equipment.
Jewel
Jewel, like the rest of the guys, has been my friend since grade school. And like many of my friends, we didn't hit the ground running. We started seriously hanging out in second year high school. He was with the volleyball team and I was with the football team. Our trannings finished around the same time and we would wait for each other so we can go home together. We both live in Green Park.
Back then, the traffic was awful. Sometimes, we would walk the ten or so kilometres from our school to our place— and we'd always sing songs. Our favourites were I'll Be There by The Escape Club and The Promise by When In Rome. I suppose that's when we first tried out and became good with vocal harmonies. Even to this day, it's always a pleasure to jam and sing the good songs with Jewel on the second microphone.
But Jewel is a bassist. A damn good one— if only he isn't too humble to say so himself.
We've stuck together, Jewel and I. We've been through a lot together. And just as with Dodong, we've had our fallings-out but we are always able to make our peace. I am godfather to his daughter, who is now about to enter high school.
I wish she'll make similar happy memories as her father and I have.
Nathan
I'm not sure when Nuts started to want to be called Nathan but that's how it goes currently. He looks like Butthead, doesn't he? He's really nuts.
Seriously, in and out of the band, we've had a lot of moments. Good ones. I can't remember a time when Nuts and I fought. I mean, really fought. He's one of them cool guys that has no nerves for anyone to hit. Although, I can probably write about a couple of times when I almost did.
I don't think he's working any more these days. Last I heard was he retired early, after having stuck with a large IT and computer manufacturing firm for such a long time.
Belonging in the same industry, Nuts and I have an understanding about how things work in these parts. But, also by extension, how to see things objectively as it is part of our job.
Nuts played guitar in our band. He is responsible of many of the melodies that we turned into songs. He's also responsible, big time— although he doesn't realise it, for making the thoughts that I've written somewhat palatable to other people. These days, I miss that as I seem to be having trouble writing stuff that would make sense to people. Even poetry has to have roots in reality, doesn't it? That's what I will appreciate most about Nuts.
But he hasn't stopped playing— none of them have. Over the years, Nuts has played rock n' roll for acts like The Blue Jean Junkies and Migo, and the blues for Blue Way. He also sessions for other groups although I can't name any of them because it has been a while since Nuts and I sat down and spoke the way we used to.
Like all members of Pagan Smoke, Nuts is a formidable musician.
Dino
If there is anyone else in our group, apart from me, who has taken a break from all the rock n' roll, it's Dino.
Like Nuts, he plays the guitar. But the way our band was set up, we really didn't have a lead and rhythm guitarist. Both of them had parts that many others would find unnecessarily difficult. And Dino always held his own. He always will.
Dino and I became friends at around the same time that Jek and I became friends. He was one of the people that lived under the mango trees. But he never hoarded tabs. LOL! Actually, if I have to be honest, I hoarded tabs from Dino in those days. I wasn't a very good friend back in high school. But Karma sucks and while I'd like to think that between Dino and me, I was the better guitarist (and keyboardist), he stuck with learning songs and theory even without the help of tabs and all that, and he just left me in his wake.
Dino passed a very challenging period recently when he and his wife fought her cancer for years. We have lost Irene but she left Dino a much, much stronger person. Perhaps, one time, I can write about that. Not today.
I am also godfather to one of Dino's daughters. And I am happy to see that even though Dino is a single dad at the moment, he is bossing it. It was so easy to get Dino to go out and do stuff and bring him back home a couple of days later. But as much as I want to be a bad influence to him these days, I am very glad that he says "no" most of the time.
It doesn't mean that Dino leaves me hanging, though. Even when Dodong and I were fighting, Dino (and Jewel) stuck with me— at the expense of being similarly ostracised by our other friends. Of course, all is well now. But I just wanted to express how grateful I am for having friends like these.
I am really fortunate and I hope to be a better friend from now on.