My Friends: Buko Pie Gang
Published: 16 May 2019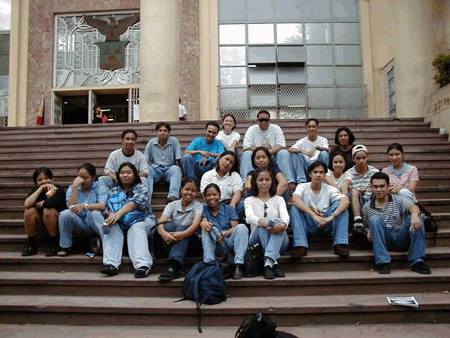 "Show me who your friends are, and I will tell you who you are." — Vladimir Lenin
OH, MY GAHD— who are these people?!
This photo was taken a long, long time ago when a lot of us were still in school. These people weren't my classmates but people who frequened the UP internet relay chat channel. We were having a get together then, which we often did in those days.
I remember some names and some faces but I can't seem to associate them with each other. It was such a long time ago.
There should be a guy named Melvin somewhere. He was studying in UP Los Baños at the time but he made his way to Diliman just to see everyone. I remember the day the photo was taken because Melvin, bless him, brought buko pie fresh from LB! It was good. But it also started a running joke in the channel about always inviting Melvin over so we'll always have buko pie. Melvin and I are still in touch, somewhat. But these days, he only likes stuff that I post on Instagram.
There should also be a girl named Aileen. I think she's the one to the extreme left; the one in black and wearing boots. But I'm not sure. Like Melvin, Aileen and I are still in touch. But it's a good thing that we don't really see each other because I don't know what she will do to me for having just pointed her out.
I should also know the girl who was sitting to her right but, for the life of me, I can't remember who that is. But I remember the third girl from the left. That's Shine. She was fond of calling me "kuya" in the channel for some reason, something that I appreciated for some reason as well. She lives in France now. I believe she and Aileen and a couple of people there still see each other when there's an opportunity. I never get an invitation to join them, though. I wonder why. LOL!
The guy above Shine is Emil, our trusty tanggero! Like the rest, we are still somewhat in touch but only on social media. It also doesn't help that he now lives somewhere in North America. There was a time when Emile and I would horse around in the chats but that peetered out. It must have had something to do with him being good friends with one of my exes.
The girl below me, I think, is Inna. We never really chatted that much but we always saw each other in these occasions. I'm not sure if she's ever been to one or more of Pagan Smoke's gigs— there was a sub-group that always went but I don't think any of them are in the photo. I wonder how they're all doing? Nadj, Mai... Landa and I just chatted before I started writing this. Alnee and I touched base last night. Good people.
The person near the right, above the guy with the white cap (is that Melvin?), looks like Alex. He was one of the group's enforcers, along with his buddy, the skinny guy beside him whose name I have completely forgotten. Like Emile, there are fratmen. But they weren't bullies. Alex and the skinny buddy and I hung out even when there was no get together. For some reason, we would just run into each other— in Malate, in QC, in Greenhills. Those guys were so fun to be with. Typical Greeks.
The girl to the extreme right had been one of my crushes. But to this day, I never knew her name. And I don't even remember the handle that she used in the chats. I just saw her when we had get togethers. We spoke a few times, surely. But I don't remember if I ever got her name. I did get her number, though. Weird.
Addendum
Her name is Einna. That's according to Lyssa, "yung chaka sa gitna"– her words, not mine.