Buko Pie Gang, a Postmortem
Published: 17 May 2019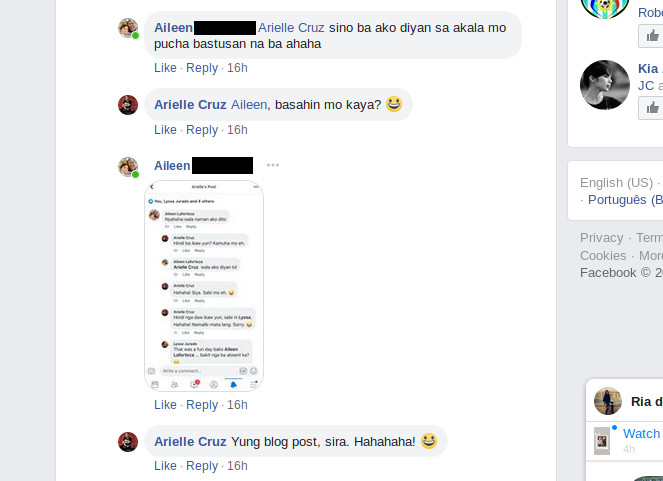 I don't really know if "postmortem" is the correct term for this. I am just familiar with the term because I like watching crime shows and at work, we do postmortems after getting fallen servers back up and running.
Anyway, the Buko Pie Gang caused a stir among a few people back on Facebook. It was so, so funny that I had been laughing out loud for the two hours that I had left at work. It was a good thing that I was just at home. Somebody might have called someone from the nuthouse to come get me if I was, say, at a Starbuck's.
As I do with other stuff, I tagged the people that I wrote about. So, if you've read the Buko Pie Gang post, you know that I've tagged several people on Facebook.
The first to react wasn't actually mentioned in the post, at least not initially. Lyssa messaged me privately only to say that the crush's name is Einna. And that she was the "chaka" (a not-so-pleasant-looking person, it sounds funnier in Filipino) in the middle. I was drinking Gatorade then when I read Lyssa's message. You are free to guess where the Gatorade went. But yeah, I found that snippet of conversation so funny that I had to put it in an addendum somehow.
Then Aileen came into the comments of the Facebook post that I made for the post. It seems that I got it wrong— I did say that I wasn't sure. Lyssa had pointed that out, too. The girl that I thought was Aileen was someone else. The conversation between Lyssa and me on PM was somewhat repeated on the Facebook comments because I wanted to acknowledge to Aileen that I was wrong. But Aileen being Aileen, she of course "attacked" me on the comments: "hey, Arielle! Who did you think I was in the photo?!" To which, I replied: "why, didn't you read it?"
Aileen still being Aileen, posted a screen shot... of the running conversation that she, Lyssa, and I were having on the comments. So I told her, "did you read the blog post, stupid!"
Hay. I love my friends! Hahaha!
Others have since joined the conversation, like Emile whose tag I had to remove because of work concerns. I'd post a transcript of our conversation, too, but I don't like removing things once I've posted them.
That also serves a lesson to me, I guess. Sometimes, the most innocent statements— even statements of fact— may be harmful or cause some discomfort. I don't know these people's circumstances beyond what I can see on social media. I'm glad that's all sorted out though.
But I do remember now why I never called the crush. It also has to do with Emile.