At Sessions and Alta Guia
Published: 22 July 2019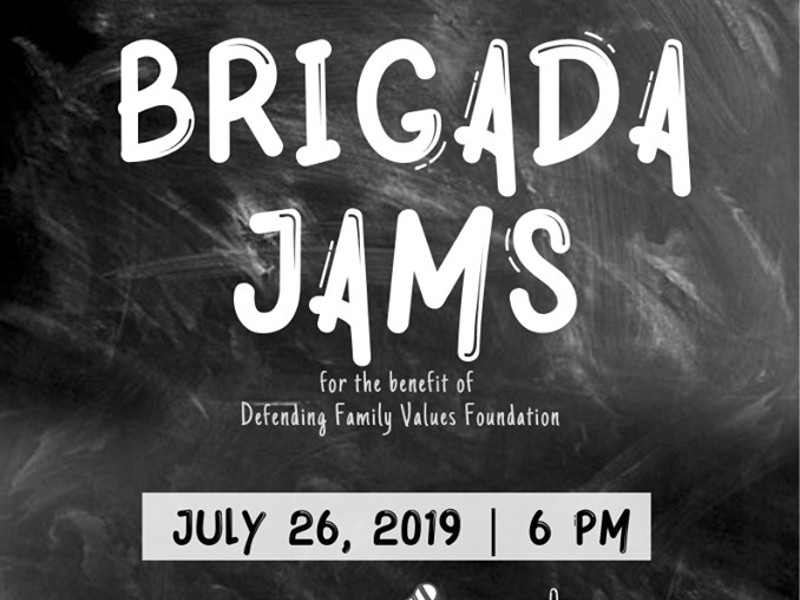 Last week, I wrote about a gig that we will be doing on Friday, the 26th. But at the time, I didn't really know any of the details.
It turns out that we will be playing at an event called "Brigada Jams", which is a benefit show for raising funds for scholarships and grants for kids from calamity-stricken areas. Brigada Jams will be held at Sessions Bar and Resto in Quezon City and is organised in cooperation with the Defending Family Values Foundation.
Brigada Jams seems to be featuring some diverse acts: a couple of acoustic duets in "Eli and Joseph" and Ysa Yanez; there are also going to be two solo(?) saxophone performances by Cleto Ver and Dr. Abraham; followed by Herzel and Co. They play from 6PM to 9PM. From 9PM to 10PM, Lodestone takes the stage— I'm not sure what sort of stuff they play as a quick Google search returns one band from the UK and one from California. It's so tempting to think that this Lodestone isn't going to be one of them but, these days, you never know where artists even at small gigs are going to be coming from.
We play at 10PM onwards.
There's also supposed to be an open mic somewhere in the schedule. I suppose that's going to be after our set but "onwards" is such a vague term so... LOL! But seriously, we only plan on doing twelve songs because that is how many we were able to do at rehearsal yesterday. There was talk then that we might be able to squeeze in some more of the songs that we already know. But that's really going to depend on how the audience feels about our playing.
I won't be able to play Pepito as was my plan. Franc has arrived from Dubai and he will be taking over the second axe duties, which is somewhat a relief because I really can't play most of the songs that we have lined up while I'm singing. Not to mention that I'd probably need to hold my phone for a couple of songs because I still haven't memorised the lyrics and it is unlikely that I will get them in my head by Friday.
We are starting late at Brigada Jams because, as I've said in that previous entry, we're coming from Taguig. That's going to be a private party at Alta Guia. We're supposed to do an acoustic set there but none of use has presentable acoustic instruments. It's OK. The people at the private party are just our classmates and they should be used to expecting the unexpected from us. What with the homecoming earlier this year.
The Alta Guia event is going to be a fund-spending affair. It's for us celebrating the successes of last year when we were able to do a lot of stuff with the help of a lot of good people. And we have some cash leftover from all the fund-raisers and pledges that our classmates thought we'd spend a little for "friendship and brotherhood". Too bad we won't be able to stay until the end of the party, though. Because traffic.
We won't get paid for either gig. And chances are, we'll be expected to pay the P300 entrance at Brigada Jams— just as we had to pay for the P1500 entrance at Doc Aina's benefit gig last month and the P20-something K pledge at the homecoming last February. That's on top of the money we have to spend for the studio, food, and transportation. No, I'm not saying this with any resentment! I'm just saying this to give perspective on how difficult it can be to be a musician these days— professional or otherwise. But it can also be rewarding.
It is rewarding.
Last I heard, Doc Aina's been doing unexpectedly well. My class, of course, does have a lot to celebrate. And no matter how much they make in the gate at Brigada Jams, I'm sure that at least a handful of kids will be happy they'd be able to go to school. That isn't so bad for a group of guys who just want to make some noise every once in a while.
As for me, I just want to stand there, close my eyes and imagine you being in the audience somewhere. And sing my heart out.